An Illustrated Reference Guide to the Israeli - Palestinian Conflict of 2006
Saturday, 01 July 2006 18:26 |

|
An Illustrated Reference Guide
To
The Israeli - Palestinian Conflict
of 2006
Map of Gaza


The Kidnapped Israeli Soldier

Key Israeli Leaders

Above: Left - Prime Minister Ehud Olmert, Right - Defense Minister Peretz

Above: Former Prime Minister Benjamin Netanyahu - A key political opponent of Ehud Olmert's political party.
Key Palestinian Leaders

Above: Arafat's Successor - Palestinian President Mahmoud Abbas leader of the Fatah political party. He lost the January elections to Hamas but negotiated a compromise position in the new Hamas PA government as President.
The Top Leader of the Hamas Political Party - In Exile

Above: Khaled Meshaal - Top Leader of Hamas but living in exile in Damascus, Syria because Israel wants him dead and has tried once to assassinate him. Israel believes Meshaal has ultimate control and authority over the captors who hold the kidnapped Israeli soldier, Gilad Shalit. Israel wants Syria to hand him over for terrorist crimes. Meshaal is the reason why Israeli figher jets buzzed the Syrian Presidential summer palace shortly after the crisis unfolded. It was a subtle threat and pressure directed toward Syrian President Asad to give up Meshaal or at least force him to negotiate the release of the Israeli soldier.
 The Palestinian Prime Minister
Israel has threatened to kill him

Above: Prime Mnister Ismael Haniyeh. He's gone into hiding
Egypt's Key Leaders

Above: Egypt's President Mubarak. He has tried unsuccessfully to negotiate a compromise solution for the release of the kidnapped Israeli soldier. He does not like Hamas and would secretly like to see the group destroyed.

Above: Omar Suleiman, Egypt's top intelligence officer and a close and trusted advisor, confidante of Egypt's President Mubarak.
Syria's President Asad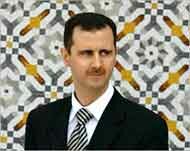 Above: Syria's President Bashar Asad. Israel likes to send its fighter jets buzzing over his Presidential palace.
Hezbollah's Lebanese Commander

Above: Sheik Hassan Nasrallah - leads the Hezbollah terror group and has solicited money and support from Iran for many years. Also has close working relationship with the Syrian government. His forces are based in Southern Lebanon along Israel's northern frontier border.
Iran's President Ahmoud Ahmadinejad

Above: Iran's "crazy" President - who would like to "nuke" Israel and wipe Jews off the face of the Earth.
These are the key players so far in the current Israeli-Palestinian Crisis.